Thanks for your interest in Where the Road Ends: A Guide to Trail Running by iRunFar's Meghan Hicks and Bryon Powell. On this page, you can find links to purchase the book, learn more about it, spread the word about it, and, soon, see what others are saying about it. We've also shared excerpts on the what and why of trail running as well as how to run downhill on trails, if you want to get a taste for the book.
Ways to Order Where the Road Ends
Where the Road Ends is available from a wide variety of local book stores, running and outdoors retailers, and online vendors. Amazon.com tends to have the lowest pricing, while shopping at your local specialty stores helps support your community.
You can also buy a copy autographed by Meghan and Bryon by clicking on the button to the right. Please know that personalized copies may take up to a few weeks to ship as both authors travel frequently to report on or run trail races around the world. Thanks for your patience and understanding!
The book is now available electronically on Kindle, as well as other eReader platforms.
About Where the Road Ends: A Guide to Trail Running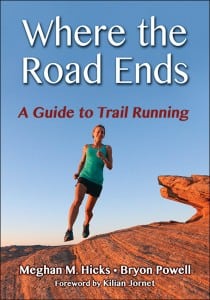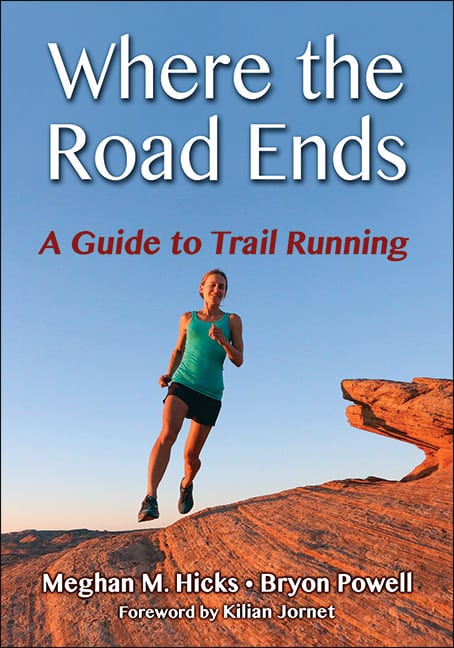 Whether you are an experienced road runner or an outdoor enthusiast who wants to explore a new way of appreciating nature, Where the Road Ends: A Guide to Trail Running will give you the tools you need to run safely and enjoyably. It covers:
Techniques for running on different kinds of ground and through different terrain;
Gear details, including matching your shoes to the running terrain;
Trail safety, including navigation and map reading, first aid, and water crossings;
Trail running training plans; and
Participating in off-road races.
Author Meghan M. Hicks was the 2013 winner of the prestigious Marathon des Sables set in the deserts of Morocco, while fellow author Bryon Powell publishes the popular trail running and ultrarunning website iRunFar.com. Together their comprehensive guide sends you down the right path.
Spread the Word about Where the Road Ends!
One of the great things about the running community is its willingness to help out other runners. Well, by spreading the word about Where the Road Ends: A Guide to Trail Running you'll help your fellow runners by letting them know where they can learn more about trail running. If you love trail running, why not share that love with others?!
There are many ways you can get the word out about the book. Doing even one of them could make a runner's day, while there's nothing stopping you from tackling a few. Here are some ideas:
Order Where the Road Ends today. Go nuts and order a copy to help a friend!
Mention the book on Facebook or Twitter.
If you have a blog or website or podcast, consider featuring Where the Road Ends. (Contact us for a review copy.)
Send an email to a friend who you think would be interested in the book.
Ask a local book store, running store, outdoor retailer, or library to carry the book.
On behalf of all runners, as well as the two of us, thanks for taking the time to get the word out about Where the Road Ends!
Get out there!
Meghan and Bryon