Saving Waldo
At about 5:15 pm PDT last Wednesday, the phone rang in the home of the Waldo 100k race director in Eugene, Oregon. Craig Thornley answered the phone and was told by his United States Forest Service special permit issuer that a wildfire had been spotted in the forest directly on the Waldo 100 course. Specifically, the location of the fire was on the Pacific Crest Trail in a key race location at miles 25 and 46. Craig's permit issuer told him, nicely, "At this time you may want to consider a cancellation or a re-route."
Now, at the time the call came in Craig was, as many race directors are doing on race week, juggling scores of details. He was loading aid station supplies, organizing course marking teams, communicating with runners, volunteers, trail maintenance teams, and friends, and, generally, going into all out race mode. By 7:00 pm that evening, he knew it was time to formulate a plan to notify the runners of the situation and to plan a potential re-route scenario. Craig assembled a team (virtually) that included both the current Assistant Race Director Meghan Arbogast, the former Co-Race Director Curt Ringstad and Alan Abbs,  and they discussed the options. Additionally, Craig placed a call to a good friend of his who knew a thing or two about this kind of scenario and when Craig told Greg Soderlund, 13-year veteran Race Director of the Western States 100, the situation he was facing, Greg gave him the best advice he could ask for, "Craig, whatever you do, make sure you notify the runners everything you know as soon as you know it." Greg went on to tell Craig that if he thought it was too late to notify runners via email, Facebook, or Twitter he should sit down and call everyone.
Then, as Craig tells it, Greg said simply, "If it would be helpful, send me the numbers and I'll start calling!" Such is the brotherhood engendered in this sport.
Back to the story…
At 9:00 pm Wednesday evening, a little less than five hours after Craig first got word of the fire, he sent an email to all runners, volunteers, and race officials notifying them of the fire situation, presenting the possibility of the re-route, and informing them to stay tuned to the race website, Facebook, Twitter and the Forest Service website for additional information. Craig also smartly, and I dare say, uncharacteristically, told everyone on the email that he would not be able to respond to individual emails until further notice.
Craig and his team worked through the night on the re-route scenario ("I think that was a one-hour night," Craig told me). They considered a variety of options and knowing the trails and roads in the area like "the wrinkles on the backs of our hands" were able to present the Forest Service with a viable route the next morning. Their proposed re-route, remarkably, while altering over 15 miles of the course, would not change any aid station placements, would allow them to maintain the integrity of the course and keep the cutoff standards as published, and added about 3 miles of running to the event. The Forest Service confirmed receipt of the re-route maps at 5:30 pm Thursday, 25 hours after the outbreak of the fire, and told Craig they would do a flyover in the morning and get back to him with their recommendation. Craig then decided, with runners on their way to the race from all over the country, to once again notify the runners, volunteers, and officials that a final decision would be made by noon on Friday, seven hours before the pre-race briefing and 21 hours before the start of the race. It was a gamble, but Craig felt it was the right gamble.
Thursday night was another sleepless one for Craig and his team. With the re-route scenario settled for the time being and the communication plan seemingly in place, Craig went back to the business of actually preparing for the race. The truck and trailer needed to be packed with supplies, the course monitors and markers needed to be re-deployed on the new sections of the course, the rental equipment needed to be picked up and the myriad last-minute details needed tending. All that was going along merrily when, in the middle of the night, an update appeared on the US Forest Service website announcing a massive closure of the Pacific Crest Trail through the entire fire-impacted region. With so many south-to-north through hikers making their way into Oregon on the PCT the Forest Service was justifiably concerned about their welfare as most folks who've hiked from Mexico to Oregon in one summer are, by virtue of natural selection if nothing else, pretty darn tough and generally oblivious to little annoyances like wildfires.
All of a sudden, through the night, the calls, messages, and emails rolled into Craig's house in Eugene. "The trail is closed!" "Is the entire forest on fire?" "Can you make it an out and back?" "Can I get a refund?" Needless to say, Craig and his team had another sleepless night.
The next morning, after hours of toil, Craig and called his trusted permit issuer, at home, at 7 am.
"What's with this closure?" He said, trying to sound calm.
"Let me check. Keep everyone on hold and I'll get back to you when I know more. I will do everything I can to help you." She was a helpful soul and wanted Craig to know that.
With that, all Craig and the Team could do was wait. Tom and Chris continued packing the truck, Laurie continued purchasing food for the barbeque, out in the field, Meghan, Alan, Hannah, Russell and countless others simply waited for the signal to continue into the forest or stop, pack-up and go home.
Finally, at 10:00 am on Friday, a Forest Service helicopter flew over the entire area and at 11:15 am Craig got the call he had been waiting to receive for the longest four hours of his life. The race was on!
When he finally got into his truck and rolled out of Eugene to make the 90 minute drive to Willamette Pass he was physically, emotionally, and psychologically spent. "I was completely exhausted and the race hadn't even started," he told me, "To me, it felt like the race was over."
Craig spent the drive to the Pass collecting his thoughts, making phone calls and preparing to actually direct the race. When he got to the site the runners who were gathering greeted him like a savior. The pre-race briefing was, in Craig's words, "the most attentive I have ever seen." And, as everyone went to bed on Friday night an air of calm fell over the proceedings as the race was ready to unfold.
Of course, the race itself went off almost without a hitch. A late afternoon lightning storm caused a bit of a stir toward the end, but otherwise, when all was said and done, it was another, classic, low-key, boutique, old-school Waldo. 91 of the 112 starters finished, the race once again made a meaningful donation to the local ski patrol, the first four Montrail Ultra Cup Western States spots were secured, and the runners and crews were treated to a glorious day in the Oregon Mountains.
And, behind it all, was Craig Thornley, aka Lord Balls. I believe that the true measure of a man is not revealed in times of calm or peace or stability, but, rather, in times of chaos, disequilibrium, and crisis. Certainly, Craig faced all those three and more last week. And, he delivered. He was able to deliver for three essential reasons that can stand as lessons for us all:
1. Connections – To take a page out of Malcolm Gladwell's "The Tipping Point" Craig is, above all else, a connector. Craig's network of friends is extraordinary and his ability to engage those friends in his passion is infectious. As a result, when he needs to pull a group together to do something, it happens, every time.
2. Creativity – Solving problems is as much an art as a science and while it often requires an engineer's mind it also requires an artist's heart. To me, regardless of the problems you face, openness to spontaneity, chance, and unpredictability allows good things to happen. Stifling creativity invariably limits possibility. In this context, I can assure you, Craig Thornley is all about possibility.
3. Clarity – In the face of this crisis Craig told himself, clearly and simply, that the ultimate goal was to run the race. Certainly, he was not going to jeopardize the safety of the runners nor was he going to challenge the United States Forest Service but he was focused on his goal to deliver the event. And, after several sleepless nights and his "most challenging race yet," he did.
Bottoms up!
AJW's Craig Thornley's Beer of the Week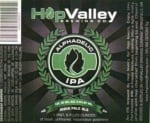 The beer this week is Alphadelic IPA from Hop Valley, a 3 ½ year old brewery in Springfield, Oregon. Similar to other Oregon micro-brews, this 90 IBU northwest IPA comes in the ecologically friendly aluminum can. My group of Tuesday night huntin' friends, who also happen to be sophisticated beer snobs, or so we think, reviewed this 6.5% ABV and had the following comments: "Smells hoppy," "It's multi-dimensional," and "Hoppy taste up front, but took a while for the after hops to kick in." I hope those firefighters who fought the Bobby Fire got to enjoy a few.