While there are still a few months left in the year, it's a reasonable time to begin thinking about Ultrarunner of the Year.* And, I have to say that this year seems to be one of the toughest to pick in the last decade. Of course, it's always difficult parsing out the various results and comparing courses, distances, and head-to-head matches but this year, for me, it really is a toss-up between four guys (and yes, I am stealing a page out of Karl Meltzer's book and throwing down some odds).
Sage Canaday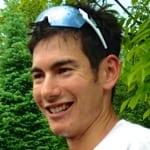 This guy has had a wonderfully consistent season on a variety of different courses. His racing has been varied and his performances have proven both his versatility and persistence.
The Big "But": Sage has not yet made the jump to the 100-mile distance and that could sway some few voters.
Odds of winning: 8-1
Ian Sharman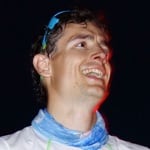 What to say about Ian? The guy blasted through the Grand Slam in an 11-week competition with Nick Clark and ran with focus and grace. His win at Leadville and second place at Wasatch propelled him to new heights and it's hard to argue with the grit and determination it takes to gut out a Grand Slam like Ian did.
The Big "But": In head-to-head races with the other UROY contenders, Ian lags a bit behind.
Odds of winning: 6-1
Timothy Olson
Tim won Western States with a scorching time on a truly scorching day. Were it not for his course record run in benign conditions last year, his 2013 WS alone might have, in the past, propelled him to being a shoo-in for UROY. But alas, it is likely to be much tighter this year even with his "second season" of racing in which he traveled around, beating a variety of different fields on a wide range of courses.
The Big "But": Even with his incredible run at WS, Tim's resume lacks that big "wow" race that often sways voters.
Odds of winning: 4-1
Rob Krar
Rob started the year innocently enough, winning at Moab Red Hot and quietly beating Dakota Jones there. Then, he traveled to Leona Divide, an old and established race on the SoCal circuit, and blistered the course record. Two weeks later, he made history in the Grand Canyon by throwing down a new Rim-to-Rim-to-Rim FKT there by over 20 minutes. He decided to jump into Western States having earned a spot in Leona and ran the fastest second place ever and the fastest debut Western States 100 ever. Then, after taking it easy in the second half of the summer and winning TransRockies, he won the UROC 100k over a talented international field. Amazing!
The Big "But": Rob did not win Western States. While that may seem nitpicky given the resume listed above, it will matter to some voters as head-to-head comparisons are important.
Odds of winning: 3-1
Wrap Up
Indeed, there are still a few months left and I know some of these guys may still have some racing left in their legs. But, in my opinion, it's not too early to begin speculating, so, let's have at it! Who's gonna take it?
Bottoms up!
PS. I will have a similar look at the Female Ultrarunner of the Year contenders in my October 18th column.

* Editor's Note: AJW is discussing ultrarunner of the year candidates who reside in North America. Obviously, other runners would warrant consideration if the geographic scope of consideration where larger.
AJW's Beer of the Week
The week's Beer of the Week comes from Rob Krar's home in Flagstaff, Arizona. Flagstaff Brewing Company's Three Pin Pale Ale is a unique spin on that classic style. It's got a hoppy start and a malty finish that I like. It's certainly not a "big" beer, but it's one of those that seems like it's gone before you even get started. In other words, it's fast, like all these guys above.
Call for Comments (from Bryon)
Which of the guys above do you think has the current edge for the North American ultrarunner of the year title? Who'll get it in the end?
If you were to add a fifth (and sixth?) runner for serious consideration, who would it be and why?
If we expand the scope of consideration to the rest of the world, Kilian Jornet is obviously a strong contender. However, who else outside of North America would be in the running for global men's ultrarunner of the year?