Nothing is better than running down the trail with a feeling of levity and strength without even noticing the clothes you're wearing. While comfort is subjective, there are certain qualities common to the best running shorts for men. In trail running and ultrarunning, the combination of feel, function, and personal style is what makes a great pair of shorts.
To compile this buyer's guide, we tested men's running shorts from some of the best-known brands in trail running and ultrarunning, some companies in men's general fitness, and even some whose reach is outside the core running community. This guide is for trail runners seeking the best men's running shorts in a variety of categories, including budget, fabric technology, storage, comfort and much more. Learn more about our testing methodology, read our advice for choosing your next running shorts, and see our frequently asked questions about running shorts for men at the bottom of this guide.
Best Running Shorts for Men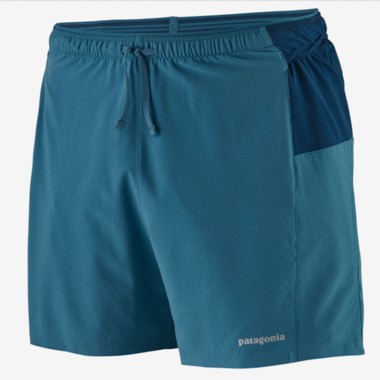 The Patagonia Strider Pro Running Shorts 5″ are the unanimous favorite of four testers on the iRunFar team. In some ways, it is the short-to-end-all shorts for any type of running. In fact, one member of our team has run only in these for the past five years, his allegiance unchanged, even with an old pair worn to pieces. The price is reasonable at $85. With a hygienic feature (HeiQ anti-odor treatment) not found in other shorts at a similar price and the most stable pocket set-up of all the models we tested, this wins best overall running short.
Available in two lengths, five inches and seven inches, the brief liner provides a secure ride, and the fabric is a perfect weight — substantial enough not to ride up, yet it feels lightweight and airy. In the five pockets, we've carried gels, keys, a light, a packable jacket, and even a large cell phone in the rear back pocket. The Strider Pro was updated in early 2023, something even the most strident Strider Pro fan is unlikely to notice, which is a good thing with such a beloved piece of apparel.
Unlike many multi-pocket shorts, when loaded down, the Strider Pro doesn't bounce around too much. A popular feature of the Strider Pro is the drawstring on the outside of the waistband, a subtle but very useful solution to the chafing or rubbing of interior drawstrings. It is somewhat surprising that Patagonia, which has not traditionally specialized in running clothes, has managed to make a pair of shorts highly appealing to trail runners. As one of the most loved outdoor-apparel companies, the brand has established itself as one of iRunFar's top picks for Best Running Apparel Brands of 2023.
Specifications:
Inseam: Five inches
Liner type: Brief
Pros:
Great storage
Competitively priced, considering all of the fabric technology, recycled content, and manufacturing transparency
The outer drawstring is a subtle but ingenious feature that prevents rubbing
Cons:
 Sizing runs small. I have a small waist but big legs and find my normal medium a bit restrictive
Shop the Patagonia Strider Pro Running Shorts 5''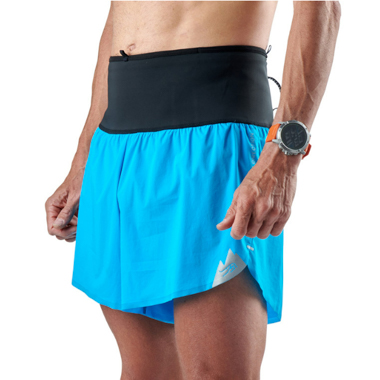 The Ultimate Direction Jason Schlarb Short is not only comfortable, but it lets you carry a small hydration bottle in your shorts rather than in your hand or in a pack. When Ultimate Direction's Hydro Short debuted several years ago, the concept of it was smart (disclosure: I worked for the company during this period). The initial product failed in its execution because to limit the bouncing of a hydration bottle, the fabric tolerances needed to be so high many men couldn't comfortably pull the shorts over their hips without them ripping. The Jason Schlarb Short takes the Hydro Short foundation but makes it much more comfortable and better performing. While it won't fully replace a hydration pack, it will make a waist belt redundant. It has 365-degree storage around the waist, with the ability to fit a plus-sized iPhone, a 550-milliliter soft bottle, snacks, and a lightweight jacket. There are two rear loops for storing trekking poles. The short is brief lined, and the sides have splits, which makes it feel very light and airy. As for bounce? The storage pockets have the excellent ability to sort of "spill out" instead of sagging down. And because there is no drawstring, this keeps the shorts from bouncing or falling down. The short looks great in Ultimate Direction's signature blue and is also available in black.
Specifications:
Inseam: Four inches
Liner type: Brief
Pros:
Excellent internal storage with a bounce-free design
Airy split-short design helps with unrestricted movement and breathability
Trekking pole loops can also hold a shirt or jacket
Cons:
Brief liner fabric and waistband storage fabric is a bit bulky and doesn't breathe well
A drawstring would help to dial in the fit when the storage pockets are fully loaded
Hem fabric is plastic coated and can make the shorts stick together
Shop the Ultimate Direction Jason Schlarb Short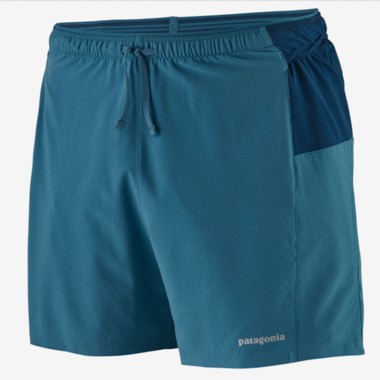 Okay, okay, hear us out. We raved about the Patagonia Strider Pro Running Shorts 5″ above as our all-around favorite shorts for running, but ultrarunning deserves its own special category, and here, we found ourselves reaching for the Strider Pro once again. To date, we've never double-dipped on a product in a buyer's guide, but the Strider Pro 5″ is the everyday AND ultramarathon workhouse of the men here at iRunFar.
Ultrarunners need shorts that remain comfortable in just about every type of weather for many hours on end. They must remain fresh-feeling, somewhat stink-free, and definitely chafe-free — which is why these shorts are also on our list for Best Running Gear for Hot Weather of 2023. We can certainly vouch for the Strider Pros in all these regards as well as their excellent storage. The storage isn't necessarily sufficient to carry everything you might need in most ultramarathons, but it's perfect for a good deal of supplementary storage.
Specifications:
Inseam: Five inches
Liner type: Brief
Pros:
Great and copious storage
Stands up in all regards on multi-day efforts
Long life for thin fabric
Cons:
Can we get a discount on a bulk pack?!
Shop the Patagonia Strider Pro Running Shorts 5''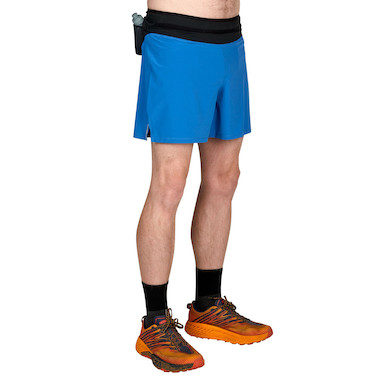 These second-edition shorts have come a long way in the two years since their debut. While the original Ultimate Direction Hydro Short was a good introduction to the brand's "wearable gear" — a very fitting name for apparel that has built-in carrying capabilities — there were negative reviews of the original model. In that first iteration, the fabric in the crotch was known to chafe, and while the belt (the most crucial component to keeping these shorts from sliding off your butt while loaded with water and gear) worked, it was problematic. Now, this second version has a magnetic clasp and a belt that allows you to cinch from both directions instead of only from the left, like the original version.
In the original model, there wasn't enough stretch in the belt for many people to hoist the shorts over their hips. This has improved, but the stitching components are still a little tight, and it's easy to hear the stitches stretching or slightly tearing if you pull too hard, putting them on or off.
Like the original Hydro Short, this updated version is blue, but it's a bit more jewel-toned than the original, which is an improvement in style. The performance is quite remarkable, considering a runner can carry 24 ounces (600 milliliters) of water in two 300ml water bottles included with and specifically designed for the Hydro Short. These small, hard bottles are unique, and you will have trouble trying to jam non-Ultimate Direction bottles in the pockets. The weight-carrying system doesn't cause the shorts to bounce or stretch, and using the pockets on the move is no trouble. There is a third pocket in the center back. There is a comfortable inner brief with a pouch feature that is a massive improvement over the original.
The Hydro Short is a thoughtful, meaningful, and innovative product that eliminates the need for a waist belt or hydration pack for most trail running distances.
Ultimate Direction doesn't use any proprietary fabric technology like Polygiene or recycled materials. Its products are not bluesign certified, and there is no consumer transparency about where or by whom the shorts are manufactured. But they are arguably the most innovative shorts we tested.
Specifications:
Inseam: Four inches
Liner type: Two-in-one inner brief
Pros:
Extensive storage, carries very well and doesn't bounce
Water bottle pockets can be used for anything, not just the included bottles (for example, a windbreaker)
Nice styling and this second generation includes a "Hydro Hammock" liner, which is comfortable and supportive
Cons:
High cost
Stitching tolerance is awfully tight and must be handled a little more carefully than any other shorts when putting on or adjusting
Some might find the bulk around the waist cumbersome
Shop the Ultimate Direction Hydro Short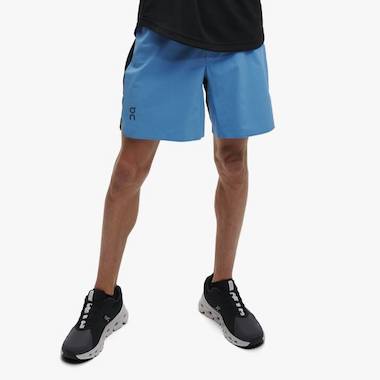 Style is personal and highly subjective, but to me, the On Lightweight Shorts are the best looking in this buyer's guide. On always emphasizes aesthetic components of their products, and thus is appealing to the general fitness-focused public, not only runners. You see the brand being worn by celebrities and fashion icons — people far outside the core of the trail running community. Compared to the stalwart mountain and trail brands like Black Diamond or La Sportiva, On looks more at home in the athleisure category, similar to Lululemon or Fabletics.
Despite the sometimes negative connotation of athleisure, I'll add that I once finished fifth place in the Monte Rosa Sky Race in Italy wearing a pair of On shoes, so I believe the brand is legit. A high performer in the mountains and trails, On is a supporter of phenomenal American mountain runners like Jeff Colt and Allie McLaughlin.
The Lightweight Shorts have a real "business up front/party in the back" vibe since the front, with its faux fly detail and luxurious-looking fabric, belies any visible tech. However, the back, with its black color contrast, is perforated and very breathable. It turns out the front fabric is highly technical as well, without being too flashy. The shorts have no zippers or hard points, so when you're on the ground stretching, there are no irritating points. This is a small but appreciated detail that other brands in this guide rarely offer.
The elevated styling and feel of these shorts make them stand out, particularly at this price.
Specifications:
Inseam: Seven inches
Liner type: Brief
Pros:
Super luxurious fabric that looks and feels fantastic
Great breathability to shed heat during hot runs, weight is very low
Cons:
Drawstring is comfortable and mostly hidden, but it's sewn together and doesn't tie
Shop the On Lightweight Shorts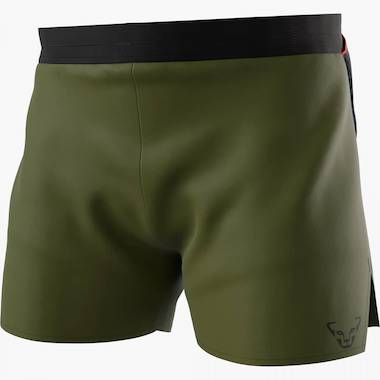 For steep mountain running and racing, most of us want as light and small of shorts as social standards and personal modesty will allow (unless you're Courtney Dauwalter or François D'haene). Enter the minimalist Dynafit Sky Shorts, which weighs a mere four ounces and has a four-inch inseam. The Sky Shorts's simple design strips away the extras and utilizes exceptionally breathable, eco-friendly fabrics. You can even reduce the weight by another gram or so once you cut out the 11-page (!) material and care instructions, which comprise the only really bulky attribute of the Sky Shorts.
The shorts borrow much of their exceptional breathability from the foundation created in Dynafit's now-discontinued Vert 2, which has been my go-to hot weather option for the past two summers. With the Sky Shorts, Dynafit has managed to transfer the Vert 2's incredible moisture-wicking performance while increasing the size of the two hip pockets, and the Sky Shorts has a much softer, less stiff face fabric. The same zippered pocket is now bigger to accommodate modern smartphones, but the real star of this show is the integrated mesh lining (brief style) with bigger-than-average perforations which move sweat away from the skin and dries quickly. In the Sky Shorts, you'll go up, up, and away with all the freedom of movement your legs and lungs can muster.
Specifications:
Inseam: Four inches
Liner type: Brief
Pros:
Minimalist design
Exceptional breathability
Ultralight
Cons:

Doesn't have longer inseam options
Less storage capacity than other shorts
Shop the Dynafit Sky Shorts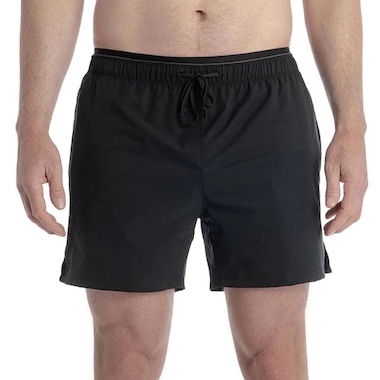 Path Projects is a brand unlike any other in this buyer's guide for two reasons: the first is that they are a direct-to-consumer running apparel company which enables them to sell its gear at much more aggressive prices. The second reason is their commitment to "independent suspension." This is Path Project's self-described method of pairing an unlined trail running short with a separate base liner short: runners wear two independent pieces that have the freedom to move and be adjusted without one affecting the other.
The system is not a gimmick. I have been running in these shorts for more than a year now. The Path Project Graves PX 5" Short is only $49, which makes it the least expensive trail running short in this buyer's guide. But the short doesn't skimp on quality of material and innovation.
This is the only short here with two side zippered pockets and one large enough in the rear center to carry a plus-sized iPhone. It is capable of carrying a lot of gear and weight without being attached to an inner liner, and the fit is much more stable than other shorts when weighted similarly.
The real charmer with this short is the main body fabric. It's a technology called Toray Prime Flex: a new, partially corn-based material that uses much less water for production. It's also very breathable and soft against the skin. Toray Prime Flex is notable for durability, which I, unfortunately, tested when I tripped and "superman-ed" around a switchback, landing directly on my hip against a slab of rock. I was bloodied and bruised under my short, but remarkably the short was not damaged at all.
Specifications:
Inseam: Five inches
Liner type: None, as it's recommended to pair these with a Path Projects base liner sold separately
Pros:
High-quality and durable materials at an affordable price
Can be worn as a very light, airy, and unlined short or paired with an inner brief of your choice
Cons:
May require sorting out the liner/undergarment to wear with them
Shop the Path Projects Graves PX 5-inch Short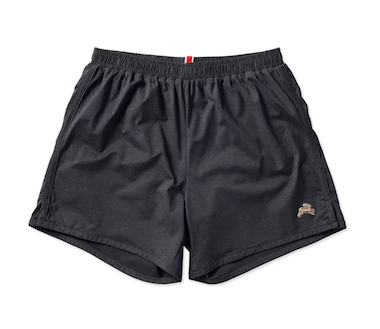 Nothing is more comfortable against the skin than a well-aged cotton t-shirt. But running in a cotton shirt is disastrous at managing moisture, standing up to odors, and staining. Since its inception, Tracksmith has resolved to bring back the simplicity of early cotton running apparel with more modern touches. What the comfort of a soft cotton t-shirt does for your upper body, the Tracksmith Session Shorts help mimic for your legs.
Though the Session Shorts are the most basic of all running shorts in this buyer's guide, they are the most comfortable. Unlike simple cotton athletic shorts, the shorts are made by an Italian factory in a blend they call "Veloce," which means "rapid" in Italian. Similar material and manufacturing processes are showing up in many cottage brands' running and cycling apparel, and for a good reason: this Veloce fabric blend (86% nylon and 14% elastane) is incredibly soft but has features like ultraviolet protection and moisture-wicking technology.
These shorts have a heather finish and a five-inch inseam with only one small pocket on the rear center. These are the shorts to use when you want to leave the phone at home and just escape into the rhythm of running with nothing but some shoes and shorts.
Specifications:
Inseam: Five inches
Liner type: Brief
Pros:
Incredibly comfortable fabric, high-quality finish
Super soft and comfortable liner that is also quick-drying
Cons:
Very basic shorts without all but the most essential, key-sized pocket
Shop the Tracksmith Session Shorts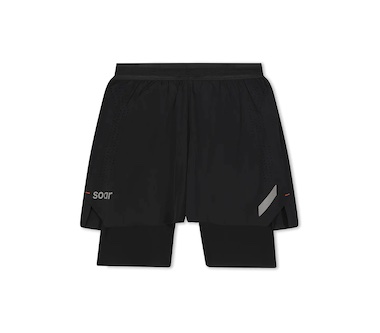 For two-in-one shorts to excel, the inner short must be extremely comfortable and stay in place over your run while not becoming too hot from the outer short. The Soar Running Dual Run Short 3.0 strikes this combination the best in this bunch.
Unlike many two-in-one shorts I've tested where the inner boxer brief provides either very little compression or doesn't stay in place very effectively, the Soar Running Dual Run Short 3.0 is the opposite. Being six foot, four inches tall and with very long femurs, the size medium I tested gave me almost knee-length coverage. This is a personal preference, but I appreciate this length over, say, inner boxer briefs that only go down half or three-quarters of the way to the knee. The outer short is balanced well and comes to just about halfway to the knee; it has laser-cut ventilation, which helps move moisture out of the inner short.
There is only one zippered pocket in this short. It can fit a plus-sized iPhone, but it's better suited to the usual small items you'd bring along, like a key or a gel.
The styling of this short looks fast and feels fantastic. In cooler weather, the Soar Running Dual Run Short 3.0 is a great option as it provides a little more coverage on your quads between the long inner short and the outer layer.
Be sure to read our in-depth Soar Running Men's Apparel review to learn more.
Specifications:
Inseam: Outer layer is five inches, inner layer is 10 inches
Liner type: Two-in-one inner brief
Pros:
The most comfortable blend of fabric in this guide
Inner short compression and length are better than most
Cons:
Few pockets, storing a phone in the short is awkward
Shop the Soar Running Dual Run Short 3.0
Buyer's Guide: How to Choose the Best Running Shorts for Men
Running is a fabulously low-tech and relatively low-cost sport compared to other endurance activities (Hello, cycling!). And while it's true that all you really need to go for a run is a pair of shoes, the next most important gear is running shorts. When it comes to choosing the best running shorts for men, we have seemingly endless options: shorts that are very short or very baggy, shorts with lots of storage or none at all, shorts with brief liners or boxer liners, and all with patterns and colors to suit every individual's style.
Brands that manufacture men's shorts for trail running and ultrarunning specifically, though, seem to have settled among a few consistent criteria: shorts that are five to seven inches in length, are always lined (either with a brief or a two-in-one inner brief), include at least one pocket big enough to carry a phone, and, often come in earthy tones like navy blue, dark green, or, most often, plain-old black.
Outside of this criteria, which we found the Patagonia Strider Pro Running Shorts 5″ pretty much nailed, if your preference falls to three-inch split shorts with a cheetah print, you won't find much from brands that have traditionally catered to trail runners and ultrarunners.
Style
Trail running and ultrarunning shorts styles have seen some outliers over the years. From Courtney Dauwalter and François D'haene's long, baggy Salomon shorts to Kilian Jornet's bright white spandex shorts from the Western States 100 back in the day, the pendulum swings in our sports. However, our picks for the best running shorts for men for this guide do not venture too far from the middle.
Our testing included no specific spandex or compression shorts, pocketless shorts, or super light three-inch shorts more common to road running. Pockets in running shorts are a tradition, but in the old days, it was one small pocket for your house or car key, and that was it. Particularly for trail running and ultrarunning, as well as with the advent of massive cell phones, pockets have proliferated for everything, including bottles, food, and trekking poles. That said, our top pick when it comes to style is the On Lightweight Shorts, thanks to its blend of sleek design, lux material, and technical details.
Material
Along with quick-drying and moisture-wicking fabrics, the best running shorts for men are often made from technical outer fabrics that resist abrasion. And many of them stand up incredibly well to hard falls on dirt or rock or from snagging against bushes and trees. This combination of durable textiles that also are breathable is what makes trail running shorts more expensive than their road counterparts. Fabrics made of blends of polyester and elastane, Tencil, CoolMax, DWR, Powermesh, Polygiene, and four-way stretch are not mandatory but preferred materials for managing moisture, odor, and abrasion. Some shorts also provide paneling in sensitive areas to block wind or cold or perforations in specific high-heat zones for added breathability. Every pair of shorts on our list was chosen for its high-quality material and breathability, though the Tracksmith Session Shorts rose to the top for comfort due to their quick-drying cotton-like material.
Length
It used to be that trail runners were noticeable by their shorts being longer, signaling a more casual and outdoorsy approach. Nowadays, trail running shorts are most commonly in the five- to seven-inch range, with many brands offering five inches. We only tested one pair of running shorts that were as short as three inches.
While most of our top picks for best men's running shorts have four- or five-inch inseams, the Soar Running Dual Run Short 3.0 are on the other end of the spectrum, with nine- and ten-inch inseams, respectively.
Waistband
To support the loads carried in modern trail running and ultrarunning, managing the weight of phones, food, water, and other gadgets depends on how secure and stable the waistband is. A poorly constructed waistband means the difference between the loads in your pockets bouncing and your shorts sagging or a nice and tight fit around the waist with all of your goods held firmly.
Waistbands are another point of friction between the shorts and your skin, which over time, can become irritating or painful. Some brands we tested here have opted for outer rather than inner drawstrings or even magnetic-closure buckles. But for most shorts, you still find a very simple, practical, and old-school drawstring that can be cinched, knotted, and tucked inside the shorts. We especially like the waistband on the Patagonia Strider Pro Running Shorts 5", which is designed with the drawstring on the outside to reduce chafing.
Storage
The types of storage offered in trail running and ultrarunning shorts are diverse but generally plentiful since we might need access to everything from hydration, food, phone, hat, gloves, and more on the fly, and not everyone wants to take off their running vest to reach for essential gear. Pocket sizes range from a small key pocket to a phone-specific pocket, to tiny gel storage pockets to (generally) one zippered pocket for security. Some brands have really innovated in their storage designs, as we see with the Ultimate Direction Hydro Short and the waistband that comfortably holds two small water bottles, while others contain hidden pockets on the thigh/hip portion of the shorts or along the waistband.
Liner Versus No Liner
Nearly all men's trail running and ultrarunning shorts include a liner, so it boils down more to which type of liner you prefer. There are shorts with a liner brief (like underwear) or two-in-one shorts with an inner liner that is more like a boxer brief. One brand we tested offers an independent system of boxer briefs and shorts, which is subtly innovative because both components move independently.
Comfort comes down to how the liner moves moisture, how well it locks in male anatomy, and how the material prevents chafing. Two-in-one shorts are often a little heavier and don't move moisture as well, but their benefit comes from not having potentially irritating seams around the leg openings like a brief and offer a little more coverage for modest trail runners. Chafing around the thighs can be minimized with two-in-one shorts' inner briefs. When constructed well, trail running shorts' brief liners are very airy and lightweight. Some runners with sensitive skin or while trail running in conditions that go from wet to dry may find an anti-chafe cream or balm helpful to combat skin irritation (an inevitability for even the most comfortable liners). The Soar Running Dual Run Short 3.0 is our favorite two-in-one style because both layers stay in place and have proven to be extremely comfortable over many hours and miles of testing.
Reflectivity
Reflectivity has become a near requirement on road running shorts as a simple way to be seen by traffic at dark. Because trail running happens in the pedestrian-friendly confines of nature, reflectivity is a rare detail on our shorts. On some shorts we tested, the Patagonia Strider Pro Running Shorts 5″, very subtle reflectivity is included on the logo.
Price
Shorts for trail running and ultrarunning don't have to be just ones that claim they are for the job. Many trail runners break the mold by wearing spandex tights (the kind more often seen in track and field) or one- to three-inch shorts lacking liners and pockets (like a road marathoner) and in everything in between (like shorts from Target or the Amazon Essentials brand). The nice thing about buying a pair of running shorts from a manufacturer who really understands the sport is the thoughtful touches, better materials, and more humane manufacturing. These factors add cost, and nearly all of the shorts we tested fall between $70 and $100, and all within $30 of each other. That said, our top choice for value is the Path Projects Graves PX 5″ Short.
While upwards of $70 may sound like a lot of money compared to shorts from Amazon ($20), Target ($24), or BOA's 1" Elite Split Shorts ($29), you gain storage for carrying the essentials that trail running and ultrarunning demand and the toughness that shorts made for harsh conditions provide.
Why You Should Trust Us
To compile this buyer's guide, we researched a wide variety of running shorts and tested 15 pairs in total. We reviewed shorts from known brands in trail running and ultrarunning, along with recognizable companies in men's fitness. All the shorts were tested on trails in Colorado. Five testers from iRunFar's review team contributed to this guide. The primary tester's body type is six foot, four inches and around 180 pounds. Almost all shorts tested were men's medium or large.
Please note that in the running world, product models are routinely discontinued, while new ones frequently come to market. At the same time, we here at iRunFar often keep using our top picks in our daily running … they're our top picks, after all! Sometimes that continued use results in uncovering product failures. With all this — product discontinuations, product introductions, and product failures — in mind, we routinely update our buyer's guides based on past and ongoing testing as well as research by our authors and editorial team. While these updates can appear to be us pushing the newest product, it's anything but that. When we update any buyer's guide, most of the products are likely to remain the same. That matches our goal: to get you in the best gear that you'll be using for a long time.
Frequently Asked Questions About the Best Running Shorts for Men
What are the best running shorts for men?
Trail running shorts are, for the most part, only different from road running shorts in two ways: volume of storage (pockets) and liner type. For example, the three-inch split shorts are most commonly associated with speedy roadies looking for "barely there" comfort with no pockets (or, at most, a small hidden key pocket) and optional inner shorts or briefs. Often that barely-there sentiment isn't just a metaphor for "lightweight" — it's a preference. While we tested one pair of road running shorts for this buyer's guide (which is not included above), we only tested a single liner-free short, and it was difficult to find a company that offered one.
Trail running shorts liners tend to come in equal variety between brief and liner, with the latter sometimes offering compression. Since trail runners often run long distances while exposed to the elements, trail running shorts also include fabric technology unnecessary in their road running counterparts, such as water-repellant tech, ripstop, or other durable fabric, and heavy-duty waistbands and drawstrings to keep loaded-down shorts from bouncing. Quick-drying material is also featured to help mitigate the effect of chafing and odors. Our favorite trail running shorts for men are the Ultimate Direction Jason Schlarb Short.
Reflective elements are also rarer with trail running shorts compared to their road running counterparts.
Are certain shorts best for ultrarunning?
The sport of trail running is diverse. Different runners like steep, short trails, while others prefer less vert and more distance. Some like to mix it all. Since ultrarunning combines all of these aspects, the best shorts for trail running require long-term comfort, the right amount of storage (to complement storage from handhelds or packs), and, potentially, rare features like trekking pole holders or shirt loops.
We found that the Patagonia Strider Pro Running Shorts 5″ check all our boxes for ultrarunning and are overwhelmingly voted the best running shorts for men at iRunFar. However, it's worth noting that several brands in this buyer's guide included special venting zones and extra perforations for quick-drying performance and maximum breathability, which is essential in running shorts that will be worn for many hours on trail. While length isn't a crucial factor when selecting ultrarunning shorts, we factor in storage and durability as additional priorities.
Should I wear running shorts with a liner?
You'd be hard-pressed to find trail running shorts without a liner, and wearing underwear beneath running shorts is a quick way to chafe (don't do it!). Fortunately, the liners of trail running and ultrarunning shorts are made for moisture management, heat transfer, and providing support in the groin. Our top choice is the Soar Running Dual Run Short 3.0, which is a two-in-one style that's exceptionally comfortable.
A supportive liner is essential since we're often leaping or jumping onto rocks or over tree limbs and running steep downhills with lots of bouncing. The liner is meant to cradle the midsection and prevent discomfort. We tested both brief-style liners and two-in-one inner shorts liners. The benefit of a brief is moisture management and minimal fabric to reduce overall weight while offering better comfort in hot conditions because of less material. Two-in-one shorts like the Soar Dual Run Short 3.0 offer a similar fit to boxer-brief underwear. Tight-fitting and sometimes extending beyond the outer running short, liner briefs can offer mild leg compression, added support, and warmth during colder runs. Also, liner briefs are sometimes used to help reinforce shorts with a lot of pockets and, thus, a lot of weight to carry. Liner briefs reinforce the harness to create stability under load.
What can I do to prevent chafing?
Sizing your trail running shorts correctly is the single most effective way to prevent chafing. All modern trail shorts liners use synthetic or wool fabrics, which are exceptional at moisture transfer and drying. Brief and two-in-one liners are both adept at preventing chafing though some runners will prefer longer inner shorts to avoid any rubbing around the inner thigh where the leg seams are on briefs.
When fit correctly, chafing should be minimal. Too small or too big, and you will find that the bulk of extra fabric or the cinch of fabric is too tight and might lead to rubbing, chafing, and discomfort, especially when it becomes wet. Shorts with outer drawstrings like the Patagonia Strider Pro Running Shorts 5″, while rare, are also effective at reducing discomfort from rubbing at the waist, and this should be considered before purchasing trail running shorts.
Call for Comments
What are your favorite men's running shorts?
Leave a comment to share yours so we can consider them for a future edition of this article.
Back to Our Top Men's Running Shorts Picks