When it comes to painstakingly picking out running gear, the lowly t-shirt often gets overlooked. And look, we get it. You can get away with running in any old cotton tee with far fewer consequences than hitting the trails in a pair of Crocs. But here's the thing. Like ditching Crocs for actual shoes, once you try a technical running tee, you won't be able to go back to that ratty freebie from 2002. With that in mind, our testers have compiled the ultimate guide to the best running shirts for women.
A good running shirt acts like a small security blanket, keeping you cool when it's hot and warm when it's cold. It helps prevent you from burning under the sun and serves as a key base layer on snowy mountain summits. And for long outings, a good running shirt provides a protective layer between your skin and that abrasive hydration pack weighing down on your shoulders. Small details like flatlock seams, body-mapped mesh paneling, raglan sleeves, and underarm gussets conform the shirt to your body without irritating your skin. A good running shirt feels so light, breathable, and comfortable that you forget you're even wearing it.
After a full year of testing the spectrum of running shirts up the windy 14ers in Colorado, down through the hot, humid bogs of the U.S. East Coast, and everywhere in between, we've rounded up the best women's running shirts for trail running, ultrarunning, and everyday use.
You can also read more about our buying advice for running shirts for women, our testing and reviewing methodology, as well as our answers to some frequently asked questions many have about women's running shirts.
P.S. If you're looking for men's running shirts, see our best running shirts for men guide.
Best Running Shirts for Women
Ultralight, extremely breathable, and quick-drying, the Patagonia Capilene Cool Lightweight Shirt is what we turn to on the hottest days. Double-knit polyester fabric feels oh-so-soft on the skin and moves with you on the trail, making this modestly priced shirt a great option for everything from a weekday run to a 100-mile race.
Hands down, this high-performance shirt is the women's running shirt we wore most frequently through our testing for this guide. It kept our primary tester as cool as possible during a steamy ultra through the bogs of New Hampshire and withstood the wear and tear of many days in the Colorado Rockies with a fully loaded pack. Once you have worn this shirt on a roasting summer's day, you won't go back to that freebie cotton-polyester blend tee again.
The Patagonia Capilene Cool Lightweight Shirt feels simple, but the thoughtful design lies in the details. Even Goldilocks would approve of the fit: not too tight, not too loose. And the length sits just where we like it as well, right below the hip bone. You can tuck it into your shorts or let it hang loose. The sleeves are long enough to cover your shoulders and an ample section of the upper arm, and gussets under the sleeves give an enhanced range of motion without tugging. Flatlock seams across the shoulders may be a little irritating with a pack, although our testers didn't have an issue. A slightly wider neck enhances the breathability and freedom of movement, though the design doesn't provide as much protection from the sun or from hydration-pack chafing as other options.
We practically forgot we were wearing this incredibly light, quick-drying, and stretchy shirt. Once it gets wet, it does cling a bit, but it also seems to cool you off. A Polygiene treatment prevents bacteria from growing, hence reducing odor. After multiple sweaty sessions without washing, we can attest that it passes the stink test.
Coming in at less than two ounces, the Patagonia Capilene Cool Lightweight Shirt is featherlight and packs down efficiently, making it a great option if you like to strip down mid-run and throw your shirt in a pack or in the back straps of your sports bra. The tradeoff to this super fine, light fabric: it's nearly sheer in some colors and may not provide the most sun protection. It's also not the most durable, so watch out for branches and abrasive rocks. However, Patagonia's generous lifetime free repair policy means you can get most wear and tear fixed for free. Sounds like a pretty good deal for such a fairly-priced piece of apparel.
For hot days when you want to feel whatever breeze may pass by, the Patagonia Capilene Cool Lightweight Shirt fills this necessary spot in your quiver of running apparel at a great value.
Specifications:
Material: 100% polyester
Seam type: Flatlock
Actual weight: 1.7 ounces
Pros:
Ultralight
Extremely breathable and quick-drying
Soft and stretchy feeling
Anti-odor
Cons:
Seams on the shoulders
Delicate
Not great for cold weather
Shop the Patagonia Capilene Cool Lightweight Shirt
Cool and wicking on hot days and warm and insulating on cool days, the Ultimate Direction Nimbus Tee exemplifies how high-tech materials can elevate a humble piece of apparel.
While the Ultimate Direction Nimbus Tee looks and feels nothing like any other shirt we've seen, it does just about everything you could ask of it.
Ultimate Direction takes advantage of the most advanced wicking, cooling, and odor-control technologies in this tee, which recently hit the market. While traditional wicking treatments wash off over time, Polartec Delta technology is incorporated into the very fibers for a non-chemical wicking and cooling solution. A specialized knit weave of hydrophobic and hydrophilic yarns in a radiating structure expertly wicks away moisture, sucks away heat, and increases airflow. Flatlock seams help prevent chafing, and Polygiene antimicrobial odor control technology successfully keeps odor at bay after multiple sweaty sessions in a row.
Rather than feeling over-engineered, the Ultimate Direction Nimbus Tee is highly breathable, light, and quite thermoregulating. As one tester noted, it's "SO nice. Breathable and wicking on hot days. Warm on cool days. Shirt love."
Raglan sleeves mean you don't have to worry about seams on top of your shoulders, which can cause irritation with a hydration pack. But the short cut on the sleeves may not provide as much sun or chafe protection as you're looking for. A wide scoop neck also limits protection from the sun, and runners with long torsos may find that this shirt runs a bit short.
Specifications:
Material: 52% polyester, 44% lyocell, and 4% spandex
Seam type: Flatlock
Actual weight: 3.1 ounces
Pros:
Breathable and quick-drying
Does great at moderating temperature
Feels light while wearing
Cons:
Short sleeves and wide scoop neck provide less sun protection and more chafing opportunity
Pricey
Shop the Ultimate Direction Nimbus Tee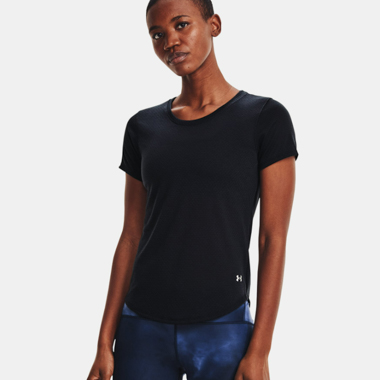 The
Under Armour UA Streaker Run Short Sleeve
shirt punches above its pay grade in terms of performance benefits while also providing a form-flattering fit with just the right amount of coverage.
While not the least expensive shirt we tested, the Under Armour UA Streaker Run Short Sleeve competes with the best of the best at a significantly lower price point. Plus, it's one of the most flattering shirts we tried. A polyester-stretch blend fabric made from two different gridded weave patterns in a body-mapped fit make this shirt comfortable and breathable. A touch of elasterell helps give this shirt some stretch and freedom of movement, yet retains its shape when it gets wet. It feels as soft as a casual daywear shirt and honestly looks just as good. That's partly thanks to the perfect fit; we love the semi-fitted hourglass body and the shaped hem, which falls right on the hip bone.
Raglan sleeves eliminate top-of-shoulder seams, helping to prevent irritation from a pack. Under Armour Microthread fabric means this shirt doesn't cling to your skin when wet, and it dries fast. We wore this shirt for long days in the mountains on some of the hottest days of the summer and stayed as comfortable as humanly possible while profusely sweating for hours on end. Plus, anti-odor technology helped prevent stink.
For those who need low-light visibility, the Under UA Armour Streaker Run Short Sleeve comes with a few reflective accents on both the front and back. The one design detail that left us a little perplexed is a seam that runs horizontally across the shoulder blades. It adds an element of uniqueness and style, but what is it for? While that didn't cause any chafing or irritation with a pack, we could see that being an issue for some.
Specifications:
Material: 93% polyester and 7% elasterell
Seam type: Flatlock
Actual weight: 3.2 ounces
Pros:
Highly wicking and breathable
Soft feeling
Flattering style
Cons:
Flap of fabric on the back feels superfluous
Shop the Under Armour Streaker Run Short Sleeve
The lightest wool shirt on the market also happens to be incredibly quick-drying, stretchy, soft, and thermoregulating. The Black Diamond Rhythm T-Shirt transitions seamlessly from hot miles in the valley to cold, breezy mountain summits.
Thanks to Nuyarn merino wool technology, the Black Diamond Rhythm T-Shirt is significantly lighter than any other wool shirt on the market — with marked performance improvements. Black Diamond claims Nuyarn fabric dries five times faster than standard merino, which our tests generally corroborated. It's also 35% more stretchy, meaning that this shirt moves with you despite its simple design. The wool/nylon combo sits softly on the skin while maintaining breathability. And thanks to wool's natural antimicrobial properties, this running shirt doesn't smell after being worn for days on end running, backpacking, cycling, and lounging.
The shirt is simply designed and yet excels above many options with gussets and fancy body-mapped panels. Raglan sleeves connect to the collar, and minimal seams combined with the qualities of Nuyarn make this an exceptionally comfortable shirt while also helping to preserve its durability. Note the running shirt is so stretchy that it will stretch out when it gets wet. But miraculously, it reduces to its original shape once it dries.
For summer mountain outings, backpacking adventures, and colder expeditions, our testers turned to the Black Diamond Rhythm T-Shirt all summer. As a running shirt or base layer, it gives you a little bit of extra added confidence that you're prepared for whatever Mother Nature may have in store.
You can also read our in-depth Black Diamond Rhythm T-Shirt review.
Specifications:
Material: 57% nylon and 43% merino wool
Seams: Flatlock
Actual weight: 2.1 ounces
Pros:
Great mobility
Very durable
Feels soft and comfortable to wear
Good odor protection
Cons:
Shop the Black Diamond Rhythm T-Shirt
From running to the restaurant, we can't take this shirt off. The Oiselle Flyout Short Sleeve simultaneously provides the performance benefits of a high-tech tee while looking stylish enough to get compliments as a casual daywear item.
Don't let this shirt's stylish appearance fool you. It's still a highly technical garment. Oiselle uses what they call HoverFit technology that truly does make the fabric feel like it's hovering above your skin. The honeycomb pattern feels highly breathable yet also surprisingly soft to the touch. It also adds a subtle contrast in color that makes this shirt almost shimmer. The polyester/Tencel/spandex fabric stretches and moves with you. It also works with your body's natural cooling process, moving sweat to the surface where it evaporates off your skin.
Raglan sleeves move with you and keep seams off your shoulders. However, the sleeves are quite short and may not be for everyone. A slightly tailored cut renders this shirt just the right amount of form fitting without uncomfortably clinging to your body. The hem hits at just the right length on the waist. The Oiselle Flyout Short Sleeve dries fast and offers UPF 15 sun protection.
Our testers kept coming back to this shirt for its flattering fit and kept marveling at its breathability, comfort, wicking, and freedom of movement. Anytime we can run straight from the trail to the pub without needing to change into something dry and/or less geeky is a big win.
Specifications:
Material: 65% polyester, 32% Tencel, and 3% spandex
Seams: Flatlock
Actual weight: 2.9 ounces
Pros:
Highly breathable and quick-drying
Flattering fit
Cons:
Fabric can snag
High undercut arms
Shop the Oiselle Flyout Short Sleeve
The Montbell Cool Light T is unbelievably light and airy, and it also blocks about 90% of the sun's harmful rays.
Made from the brand's signature Wickron Cool fabric, the Montbell Cool Light T lives up to its name. Wickron Cool takes advantage of capillary action to wick sweat from the skin and move it to the surface of the fabric, where it can evaporate in the sun and wind and provide temporary cooling relief. Plus, the outside of the fabric gets a high-density ceramic treatment to block out ultraviolet rays for the highest protection of any shirt we tested.
The Montbell Cool Light T fabric receives a photo-catalytic agent that reacts with sunlight to generate effective odor control. Plus, the clover-shaped fibers prove unexpectedly resistant to wear and tear, making this paper-thin shirt quite durable. Raglan sleeves and flatlock seams minimize chafe points, and underarm gussets allow for full freedom of movement. We also love the sensible cut of this shirt: a classic crew neckline, sleeves that cover your sun-exposed shoulders and upper arms, and a hemline that falls below the waist.
Wickron Cool isn't the softest fabric on the market or the quickest drying. But it proves plenty comfortable and dries fast enough. The Montbell Cool Light T proves you can protect yourself from the sun and stay cool at the same time. Hallelujah.
Specifications:
Material: 100% polyester
Seams: Flatlock
Actual weight: 2.2 ounces
Pros:
Ultralight and breathable
Excellent sun protection
Cons:
Shop the Montbell Cool Light T
This is a super-soft, moisture-wicking, and quick-drying tee that costs just $13. Need we say more about the Decathlon Quechua Mountain Walking Short-Sleeved T-Shirt MH100 — other than its name is a mouthful?
It seems almost too good to be true that you can purchase an acceptable performance run tee for one-third of the price of the next decent budget piece. Decathlon claims that's because state-of-the-art production processes and direct-to-consumer retailing allow them to keep their costs low. And apparently, they're not cutting costs on materials: The Decathlon Quechua Mountain Walking Short-Sleeved T-Shirt MH100 is made from 100% recycled polyester originating from plastic bottles. Cost and eco-friendly fabric aside, this shirt holds its own against its much pricier counterparts.
We love the soft feel of this shirt and its fast drying rate. After sweating profusely up a mountain, one tester's shirt was dry within minutes on the breezy summit. Stretch mesh and underarm gussets provide full freedom of movement. And this shirt was one of the lightest we tested.
While the Decathlon Quechua Mountain Walking Short-Sleeved T-Shirt MH100 sports 75% polyamide underarm panels to help minimize odor, this shirt does retain some stink after a sweaty session. Our primary complaint with this shirt is the plain seams, which could cause some irritation for some people on very long outings. However, smart seam placement, such as in front and behind the shoulder instead of directly on top, helps to mitigate any potential seam irritation. Overall, if you're looking for a basic performance tee at a price that absolutely breaks no bank, this shirt is it.
Specifications:
Material: 100% recycled polyester
Seams: Plain
Actual weight: 2.8 ounces
Pros:
Quick-drying
Light and soft feeling
Cons:
Plain seams
Retains some smell
Shop the Decathlon Quechua Mountain Walking Short-Sleeved T-Shirt MH100
A silky-smooth mesh feels soft and cool against the skin in the simple and lightweight Tracksmith Twilight Tee.
Made from an Italian micro-polyester and elastane blend called Bravio, the Tracksmith Twilight Tee feels luxurious. It's silky smooth, highly breathable, and it dries immediately. An added bonus is this perforated fabric is naturally antimicrobial and doesn't smell after multiple sessions without washing it. The high-gauge knit contains small pointelle holes which maximize airflow, help the shirt dry very quickly, and also give it plenty of stretch.
We love the cut of this sporty tee, although Tracksmith apparel runs notoriously small, so consider sizing up. Raglan sleeves keep the flatlock seams away from your shoulders. While it's slightly heavier than other options, it feels more durable as well. Our primary tester found this was the tee she turned to most often on cooler mornings, although it keeps you cool on the hottest days as well.
Specifications:
Material: 85% polyester and 15% elastane
Seams: Flatlock
Actual weight: 3.06 ounces
Pros:
Soft and smooth feeling
Breathable and dries quickly
Cons:
Runs very small
Slightly heavier weight than other shirts in this guide
Shop the Tracksmith Twilight Tee
Buying Advice: How to Choose Running Shirts for Women
Finding the best running shirts for women is admittedly a lot easier — and with lower stakes — than finding a lot of other running-related gear. But the options are endless, with vastly different performance, cost, and functionality that can easily lead to choice paralysis.
As with most other gear choices, there is no silver bullet running shirt for every runner on every type of run. Use this guide to get a sense of some of the best options out there and to learn about the subtle differences and features among shirts. We're here to help steer you in the right direction and hone your choices. To do so, there are some characteristics to which you should pay attention.
Use
When selecting a running shirt, ask yourself what you will be using it for. Do you want a shirt for long days in the mountains or something to keep you warm for a five-minute warm-up before you ditch a shirt entirely during a speed workout? Will you wear it during a hot, muggy summer or an arid winter? Do you need a shirt you can wear for days on end without washing? A sun protectant or a base layer for winter adventures? Some shirts, like the Patagonia Capilene Cool Lightweight Shirt, can excel across an array of conditions, which is why we named it our best running shirt for women.
Style
You gotta look good to feel good. The rationale behind this motto extends beyond pure vanity, and we know it's important that your gear reflects your individual style. Some people may find a form-fitting hourglass shirt looks and feels more comfortable than a boxy one, and vice versa. Same goes with capped or boxy sleeves, a crew neck or scoop neck, and a short or long hemline.
We absolutely loved the style of both the Under Armour UA Streaker Run Short Sleeve and the Oiselle Flyout Short Sleeve.
Comfort
As with any garment, comfort is probably the biggest thing to consider when choosing between some of the best running shirts for women. Our team loved the light and airy feel of the Montbell Cool Light T during hot runs, and the sun protection it provided was an added bonus. Comfort largely comes down to three elements for a tee: fabric, fit, and seams. Stretch comes into play as well since stretchy fabrics tend to move with you. If you plan on running with a hydration vest, consider how the shirt feels with a loaded pack on your shoulders as well. Does the material rub against your back, slip under the pack's shoulder straps, or ride up your torso?
Fabric
The material and weave of a shirt largely influence comfort. Most high-performance tees are made from polyester blended with spandex. A synthetic fabric made from oil, polyester tends to feel smooth and doesn't absorb water. It's durable and retains its shape. Adding in spandex helps make polyester-based fabrics stretchy and soft. Some running shirts are made from merino wool blends, including the Black Diamond Rhythm T-Shirt. Merino wool can feel itchy and prove to be not very durable. But good merino wool shirts provide a natural fiber option with antimicrobial properties that repel odor and have excellent insulating capabilities.
Seams
Shirts are composed of multiple pieces of fabric stitched together with seams. When you do the same motion over and over for hours on end as we do when we run, even the smallest bump, such as a seam, may cause serious irritation over time. This means that both seam design and placement play crucial roles in keeping you comfortable and chafe-free on the trails. Most running shirts swap out classic overlock seams for flatlock seams, where two pieces of fabric are sewn together flat and without overlap. Some manufacturers ditch stitching entirely, opting for taped seams. Flatlock and taped seams tend to rub against your skin far less than overlock seams. However, taped seams are also more delicate. In addition to seam type, the style of stitching and the thread used also influence comfort against the skin.
Many running shirts move seams off the top of the shoulder by opting for raglan sleeves or paneling. These styles introduce more seams, leading to more places to rub, but they eliminate the possibility for a shoulder-top seam to rub against a hydration pack.
If you're not sure about how seams affect you, we recommend choosing a running shirt with flatlock seams, like the Patagonia Capilene Cool Lightweight Shirt or the Tracksmith Twilight Tee.
Breathability
Breathability and drying speed set the best women's running shirts apart from the rest. Breathability tells you how well the shirt allows for airflow, helping sweat evaporate out of the garment rather than turning into a sticky mess on your skin. The best running shirts for women are highly breathable and are often made of mesh and very lightweight materials.
The most breathable shirt we tested was the Patagonia Capilene Cool Lightweight Shirt.
Drying Speed
A shirt's drying speed comes down to wicking and water retention. Wicking is how well the fabric pulls moisture from the interior of the shirt to the outside, where it can evaporate. Merino wool and some other materials are naturally good at wicking, while other fabrics gain wicking power from the weave of the fibers or differences between the interior and exterior of the fabric. Shirts that absorb a lot of water, like certain polyester weaves, nylon, and wool, will take longer to dry. Garments with a fast drying speed keep you cool on hot days and also help keep you warm on cold days. We found the Ultimate Direction Nimbus Tee to be incredibly breathable and light, and it was able to dry quickly after use, which is why it made it onto our list of best running shirts for women.
Smell Protection
Sweat serves as an excellent breeding ground for bacteria, leading to your running clothes smelling over time. Some shirts counteract bacteria build-up with antimicrobial properties naturally found in the fabric, such as wool. Others add odor-control treatments or elements woven into the fabric itself. Wool tends to be the best fabric at preventing stink, but many of the treatments work pretty well, too.
If odor is one of your chief concerns, try the wool blend Black Diamond Rhythm T-Shirt.
Ultraviolet Protection Factor Rating
Think of ultraviolet protection factor (UPF) ratings for apparel like sunscreen ratings for our skin. According to the Skin Cancer Foundation, a UPF rating of 50 means that only about 1/50th (or two percent) of the sunlight reaches your skin. All shirts provide some sun protection, with most clothing coming in around eight to 15 UPF. Fabrics with certain dyes or weaves can have additional UPF protection. Manufacturers are only allowed to advertise the UPF rating if it exceeds 15. Our top pick for sun-protective running shirts is the Montbell Cool Light T, which blocks 90% of ultraviolet light.
Extra Features
Extra features set the best running shirts for women apart from the rest. Features like a half zip, collar, and reflective elements differentiate short-sleeved tees and add benefits and make a shirt unique. Ultimately, each of these boils down to personal preference, especially since something like a zipper or a collar will add a little bit of weight. A half zip and a collar can be useful for providing ventilation and chafing protection if you're wearing a pack. Reflective elements add visibility when running on the streets at night.
If you're looking for clothing made in an eco-friendly manner, look to the recycled polyester material of the Decathlon Quechua Mountain Walking Short-Sleeved T-Shirt MH100.
Why You Should Trust Us
We began this guide by researching shirts from the most trusted brands in running, premier outdoor brands, and major companies in the women's run category. Next, we polled the large iRunFar team as well as trusted running friends to find out which women's running shirts they love and, well, don't care for as much. We narrowed our search to 20-plus shirts that we put to the test in the field.
Two iRunFar testers spent four months subjecting these running shirts for women to the rigors of mountainous Colorado and hot, humid New Hampshire summers. We ran in them for 50-mile outings, 50k races, and multi-day backpacking trips. We wore them several times in a row without washing them (yuck, but you're welcome).
The primary tester's body is five feet, 7.5 inches tall, and roughly 125 pounds. All shirts she tested were sizes small and medium. The secondary tester's body is five feet, six inches tall, and roughly 125 pounds. She also tested shirts in sizes small and medium.
Please note that in the running world, product models are routinely discontinued, while new ones frequently come to market. At the same time, we here at iRunFar often keep using our top picks in our daily running … they're our top picks, after all! Sometimes that continued use results in uncovering product failures. With all this — product discontinuations, product introductions, and product failures — in mind, we routinely update our buyer's guides based on past and ongoing testing as well as research by our authors and editorial team. While these updates can appear to be us pushing the newest product, it's anything but that. When we update any buyer's guide, most of the products are likely to remain the same. That matches our goal: to get you in the best gear that you'll be using for a long time.
Frequently Asked Questions About Running Shirts for Women
Can I run in a cotton tee?
You can … if you don't mind marinating in a wet, heavy shirt once you start to sweat. Cotton drinks up water and hangs onto it as if its life depends on it. Your basic cotton and cotton-polyester blend shirts also tend to have abrasive seams, which may lead to chafing and lack the other performance benefits of technical running shirts that keep you dry, regulate your temperature, and allow for full freedom of movement. Even upgrading to our best budget running shirt for women, the Under Armour UA Streaker Run Short Sleeve, can greatly increase your comfort during a run.
How can wool be a good choice for warm weather?
High-performance wool fabric looks nothing like that wool sweater your grandma knit for you in the 1990s. Performance merino yarn comes from ultra-fine wool fiber that feels soft and possesses natural antimicrobial properties, helping to prevent stink. These fabrics tend to be highly breathable and thermoregulating. The chemical bonds in merino change once the wool starts absorbing sweat, releasing heat in the process. While you may feel hot when you first start out, you'll find that your wool shirt will start cooling you down once you sweat. Shirts like the Black Diamond Rhythm T-Shirt use a wool blend to take advantage of the benefits of wool while still making a very lightweight and comfortable shirt.
Is there any difference between men's and women's running shirts?
Yes. Running shirts for women tend to be tailored quite differently from men's, mostly to accommodate differences in body form. Women's shirts tend to have narrower shoulders, shorter sleeves, a narrower waist, and a wider hem at the hips. Women's shirts also give more space in the chest. These design differences allow for full freedom of movement without letting fabric bunch around the waist and shoulders. Of course, these discrepancies also lend to differences in style, with many women's shirts providing a more form-fitting hourglass shape. Of the running shirts we tested, we found the Oiselle Flyout Short Sleeve to have the most flattering fit for us.
Should I run in a short-sleeved tee, a tank top, or no shirt at all?
The answer to this question largely boils down to personal preference. Many runners, especially trail runners and ultrarunners, prefer to wear a shirt for sun protection, to prevent chafing with a hydration pack, and to add a small buffer if they take a tumble. Some shirts, like the Montbell Cool Light T, are made with sun protection in mind.
While a sleeveless tank top may keep you a little cooler on hot days, it also provides no sun protection for the shoulders and arms, nor does it protect against underarm chafing. Once you've experienced chafing under your arms, you will go to any length to prevent it from happening again. It's exhausting running like a chicken with your elbows out.
Of course, there are many Anton Krupicka diehards who swear by running shirtless at all times. To each their own. Try out different options to see what you like best during different weather patterns.
Call for Comments
Ladies, what are your favorite running shirts? Or do you opt for tank tops or just sports bras?
What element matters most to you in a good running shirt: material, cost, durability, style, or something else?
Back to Our Top Running Shirts for Women Picks