[Author's Note: This is the fifth of a 10-part series in AJW's Taproom called Race Director Chronicles, where we profile the unsung heroes who make our sport's racing possible.]
Michele Hartwig is one of the hardest working race directors in the country. As the owner of Ornery Mule Racing, Michele directs over a dozen races including three marquee U.S. Midwest 100 milers, the Kettle Moraine 100 Mile, Midwest States 100 Mile, and Hennepin 100 Mile.
Veteran ultrarunner Chris Worden notes: "On the trails Michele brings a level of enthusiasm you can't help but appreciate. Whether I see her directing a 100 miler or running a trail race herself, she always seems to be smiling. I ran my first Ornery Mule Racing event last year and quickly saw why their events have become some of the most popular in the Midwest. She puts her heart and soul into everything she does."
I recently caught up with Michele after her whirlwind weekend directing the 2023 Midwest States 100 Mile and asked her some questions.
Andy Jones-Wilkins: How long have you been directing ultrarunning events in the U.S. Midwest?
Michele Hartwig: The year 2011 was when I decided to put on my first ultrarunning event — Earth Day 50k in my hometown of Crystal Lake, Illinois. I spent a year working on race-day plans and working with the park to get the race permit. The first year of the race was 2012. The race course is on the trails I train on daily.
AJW: What is the most satisfying aspect of your work as a race director?
Hartwig: There are so many things I enjoy about race directing. These races all started because I wanted to invite people to run trails that I like to run on, competing in a style of racing that I enjoy. From singletrack forest, to flat and fast ultras, and timed events. I love each of these styles of racing and I am passionate about creating a safe, fun opportunity for the running community. It makes me so happy to see new people fall in love with trail running, and learn they are capable of things they may have never dreamed of doing.
Ornery Mule Racing's mission statement is: "Kindness, community, and ordinary people doing extraordinary things." I wrote this down as my goal many years. It is a mission that our community truly connects with. There is something really special about trail runners and ultrarunners and this sums up this community from all around the world.
AJW: What makes running in the U.S. Midwest so unique and special?
Hartwig: I am a traveler, every trip I go on includes trail running. When I come back to the Midwest, I am always reminded of why I love Midwest trails. I enjoy the rich dirt singletrack trails, rolling hills, miles of thick forest with a variety of trees to beautiful open meadows full of wildflowers.
Running in the Midwest, we get to enjoy four seasons. I can run the same trails every day of the year and look forward to the plants and climate changing through the seasons. Winter has plenty of glorious days on the snow-covered trails that make the cold worth it. Once you are in the forest, it takes the sting out of the weather.
I love visiting trails around the world, but my heart is with Midwest trail running.
AJW: What are the three biggest challenges you face as a race director?
Hartwig: First, organizing and caring for the volunteers on race day. We work hard to get as many volunteers as we can on race day, and then we try to evenly distribute them to efficiently run our aid stations, park cars, help runners across roads, and do all the other important things that need to be done on race day. It is important to me that the volunteers enjoy the race experience and do not feel overwhelmed by what they are doing.
Crowd management is the next challenge. It just takes a couple of people parking poorly to cause a race-day disruption that can change the future of the event. We want as many aid stations as possible to have crew access, but when we have continued problems at aid stations, and it disrupts the community around the trail, we have to make them no-crew-access stations. We put up signs, send out parking instructions, and do what we can to help the crew make good parking decisions.
Third, outside services that I need to hire are a cause of race-day and pre-race stress. For example, the Hennepin 100 Mile is a point-to-point race. We bus our runners to the start line, and then they run to the finish where their car will be waiting. When the buses pull into the start line to drop off runners, it is an amazing feeling of relief to see them arriving safely.
I struggle with finding companies to deliver port-a-potties to our aid stations. Port-a-potty companies would rather deliver to easy locations. We are asking for potties to be dropped off in the middle of national forests, state parks, and rural areas. They don't always agree to deliver everywhere I ask, so it is a constant challenge to find the best setup for the runners.
AJW: What changes have you seen in the sport since you began directing events?
Hartwig: When I first started, I saw very few women at the race start line, and the total number of entrants in a race were always small. If there were 50 people at the start line I would think, Wow, this is a big race. I love that so many new people are being introduced to the trail running and ultrarunning community!
AJW: What are you looking forward to most in the 2023 to 2024 event season?
Hartwig: I look forward to every race that I put on and we have a race almost every month. Our newest race, called the Midwest States 100 Mile/100k/50k, first ran in 2022, was just last weekend so I am currently feeling a lot of excitement in what is happening there. The course is deep in the beautiful Chequamegon-Nicolet National Forest. We use the iconic Ice Age Trail for the majority of the course. This is a 1,000-plus-mile continuous trail that meanders through Wisconsin. The local families that surround this trail have shown up to support this race. They were not necessarily runners, but they love this trail and support the race as a means to welcome runners to their home trails.
Next year we have locals from the area who were not runners before that who are now planning on running the race. I love seeing new people adding trail running into their lives, as both volunteers and as runners. This race has many runners that have made this a yearly tradition. We are working on a flannel shirt for three-time finishers, for which they can start collecting patches for every year they finish a distance at the race.
This is a quiet, old-school event that has an extra-special, grassroots community feel. It reminds me of when I first started running ultras. We all camp together in the beautiful forest, and spend the days before the race together.
Bottoms up!
AJW's Beer of the Week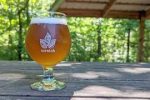 This week's beer of the week comes from Scratch Brewing Company in Ava, Illinois. Maple Bark Lager is like a fall evening in a bottle. Flavored with maple bark and a touch of maple syrup, Maple Bark Lager is a smooth drinking lager with a toasted malty finish.
Call for Comments
Have you taken part in any of Michele Hartwig's events?
Which one, and how was it?