Drymax Maximum Protection Running Sock are a mini-crew sock designed with ultra-distance running in mind. In addition to the drying power of Drymax Fibers (olefin), the Max Pro sock is more than one third PTFE, the same non-stick material used in frying pans. The combination of wetness protection and friction reduction is the ultimate blister-fighting combination.
"The Drymax Max Pro sock is my go to running sock and has been for four or five years. I've yet to find a more comfortable and protective sock."

- Bryon Powell, Editor of iRunFar.com
Blisters on the feet are the most common sports injury and seem inevitable when running ultra long distances. One study in the Journal of Sports Medicine 2004;38:498-501 reported that up to 39% of marathon runners experienced foot blisters while running marathons.
Until now, there has been limited success preventing blisters. The successful runners have learned to run with the pain of having blisters. Runners have tried everything to prevent blisters including old favorites such as Vaseline®, powders and tape. These may help for a short period of time, but are not effective over long distances and may actually help to cause blisters.
While distance running, feet get hot and perspire, causing socks to become wet. Moisture significantly increases friction (stickiness) between socks and skin. The higher the friction, the greater the chance of getting blisters. Higher friction limits skin surface movement, yet still allows inner tissue movement causing a shearing effect. This physically separates the two layers which fill with fluid, forming a blister.
Preventing Blisters Can Prevent Further Injury
A study to determine the association of blisters with subsequent injuries was conducted by RS Bush, SK Brodine & RA Shaffer with 2,130 male US Marine Corps recruits participating in initial physical training at the Marine Corps Recruit Depot in San Diego, California. The study found that recruits with blisters were 50% more likely to experience an additional training-related injury.
Blister Guard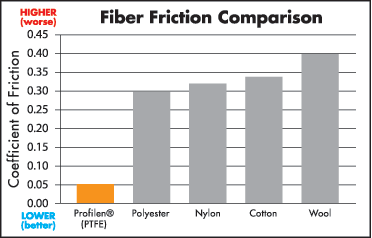 Drymax Maximum Protection Running socks were designed to prevent blisters during triathlons, marathons and ultra-long distance runs. In addition, they will help people who are just prone to getting blisters.
Maximum Protection Running socks are made using the patented Blister Guard® system. This system incorporates Friction Free® Profilen® fibers throughout the entire foot area of the sock. Profilen's chemical name is Polytetrafluoroethylene (PTFE). PTFE has the lowest Coefficient of Friction of any solid material.
Profilen and Drymax fibers blended together provide Maximum Protection for your feet. This scientific approach keeps feet dry and the friction between the skin and sock low. Runners who wear Maximum Protection Running socks will have cooler, drier, more comfortable feet, while significantly lowering the chance of getting blisters.
You will also have cooler and drier feet while wearing the Maximum Protection Running Socks because they possess top mesh air panels which release heat and sweat vapor out of the top of the sock and shoe.
Socks are not the only cause of blisters; therefore no sock can prevent all blisters.
Maximum Protection Running socks are a FDA Class 1 Medical Device.
3D Advanced Fit
Drymax's five sock sizes fit because they were developed on special 3D shaped foot models. Each size sock includes a (S, M, L, XL, or XXL) color size mark for easy match-up after laundering.
Active Odor Control
The MicroZap® antimicrobial in the Drymax® Fibers is a silver - zirconium phosphate ceramic ion-exchange resin. It fights odor-causing bacteria, helping keep socks odor free. Not a topical treatment; MicroZap is molecularly infused into our Drymax fibers. Being non-migratory and non-toxic, MicroZap provides long term Active Odor Control.
Long Lasting Comfort, Durability, and Looks
The special fibers used in our Drymax Socks have a comfortable springiness and do not get stiff, shrink or lose shape over time. They are designed to last a long time using the highest quality fibers, and abrasion resistant nylon fiber reinforcements in the normal wear areas. Blister Guard® & Friction Free® are registered trademarks of Whitford Corporation. This product is protected under US patent #'s 5,590,420 & 5,752,278.
Drymax Socks Dryness Presentation
Drymax Sock Size Chart