The Salomon S-Lab Sense Ultra is the highly anticipated followup to the S-Lab Sense. What is the Sense Ultra? A high-performance racing shoe with more traction, protection, and durability than the original Sense.
Traction – Lugging added to the midfoot area.
Protection – Rock protection extended to include midfoot.
Durability – Midsole density increased. More miles, more fun.
With all the upgraded functionality, the Sense Ultra still weighs in at less than 7.5 ounces. Of course, the shoes retain their slipper like feel and 4 mm heel-to-toe drop.
While ultralight, quite flexible, low to the ground, and with a modest heel-toe drop, these are NOT "barefoot" shoes. They do provide a moderate amount of push-through protection and a descent amount of stability.
Women: These are unisex shoes, choose a men's size one size smaller than your women's size in trail shoes.
Sizing Notes: The Salomon Sense UItra fits true to size when used as intended, which is to say barefoot or with very thin socks. If you intend to wear thick socks with the Sense Ultra, size up half a size. Note further, that even correctly sized Sense are slow to go on before fitting like a glove.
Note: We also have the Salomon Sense Mantra (training version of the Sense) in stock.
Salomon S-Lab Sense Video
Please note that we're selling the Salomon S-Lab Sense Ultra on this page. However, the video below provides a great view of the Sense, on which the Sense Ultra is based.

Salomon Shoe Sizing Instructions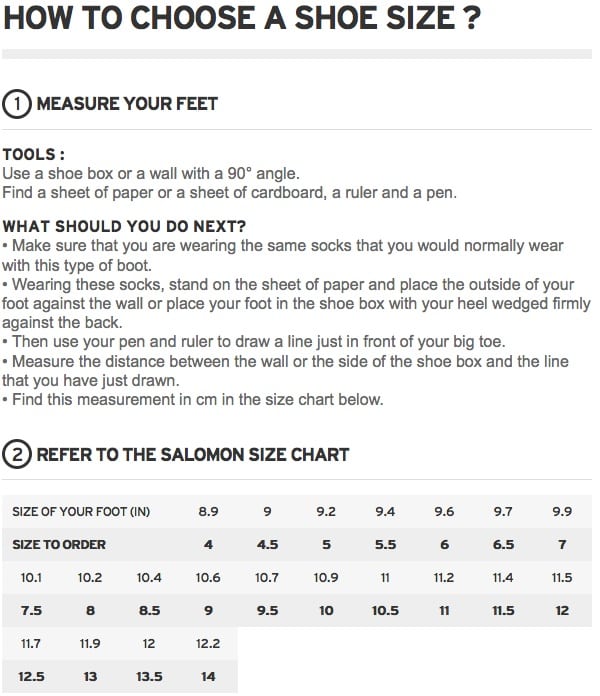 Salomon Shoe Size Chart