The 2017 Lake Sonoma 50 Mile kicks off at 6:30 a.m. on Saturday morning U.S. Pacific Time above its namesake reservoir in northern California. The out-and-back route around the lake contains about 10,500 feet of climbing. The course records are held by Jim Walmsley (6:00:52, 2016), and Stephanie Howe (7:08:23, 2015).
We'll be livecasting the event on iRunFar's Twitter feed. We've also gathered various news sources together in a simplified (i.e., comment free) Twitter feed below. Have fun following the race either way!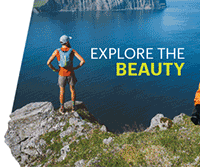 Here are a couple resources to help you follow the race:
Many thanks to Nathan for their generous support of our coverage of this year's Lake Sonoma 50 Mile.

Simplified Twitter Feed
A Twitter List by iRunFar
Support iRunFar
Please consider making a donation in support of our coverage of the Lake Sonoma 50 Mile. Thank you!
-Bryon Powell, Editor-in-Chief of iRunFar