2013 Run Rabbit Run 100 Live Coverage
The Hares race of this year's Run Rabbit Run 100 kicks off at noon MDT on Friday, September 13. As you might expect, we'll be livecasting the event on iRunFar's Twitter feed. We'll also be combining our twitter feed with other possible news sources in the CoverItLive window below. [Sorry, no reader comments for this one. It's been a long season and our volunteer moderators need a break!]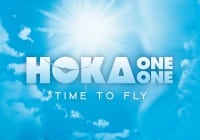 Here are a couple resources to help you follow the race:
Thanks to Hoka One One for sponsoring our coverage of this year's Run Rabbit Run 100.
Please consider making a donation in support of our coverage of the Run Rabbit Run 100. Purchasing items from the iRunFar Store also supports our race coverage around the world.
Video of the 2013 Run Rabbit Run 100 Hare Race Start
-Bryon Powell, Editor-in-Chief of iRunFar